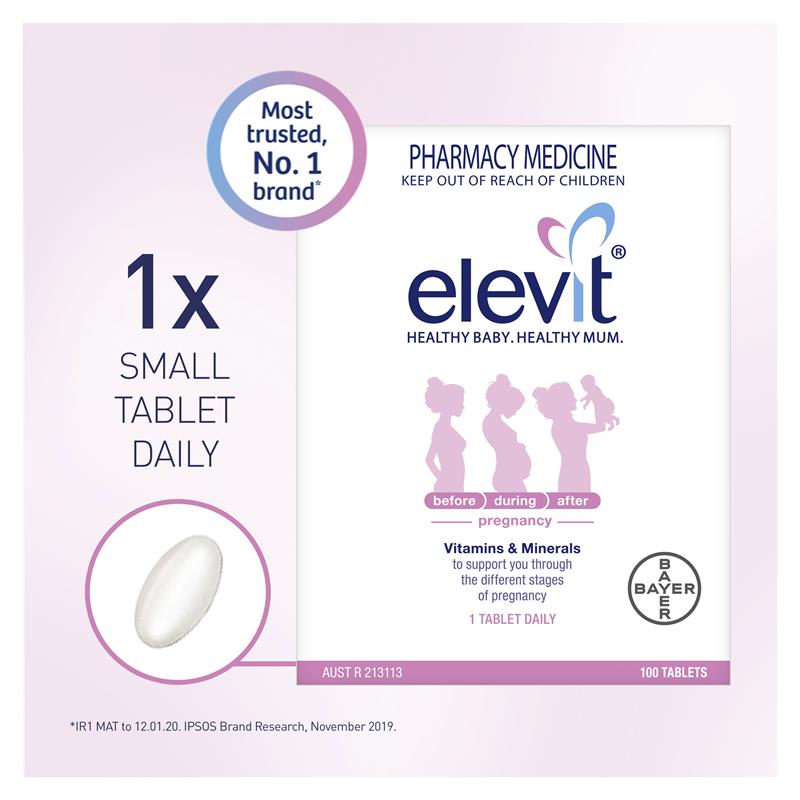 Better Services

Service at reasonable price

In-House Experts

We know our products

Free Shipping

On Orders over $99*

Bundle Offer

Save more with Bundle Offer
Elevit Pregnancy Multivitamin Tablets 100 Pack (100 Days) (Limit of ONE per Order)
General Information
Better Services

Service at reasonable price

In-House Experts

We know our products

Free Shipping

On Orders over $99*

Bundle Offer

Save more with Bundle Offer
customers are viewing this product
General Information
Planning to fall pregnant? Elevit is a once-daily pregnancy multivitamin that has been specifically formulated to help support your baby's healthy development from conception.
It can take time to build the higher level of nutrients your body will need to support you and your growing baby. Therefore, Elevit should ideally be taken from at least one month prior to conception, and then throughout your entire pregnancy. 

Elevit has more folic acid and iron than any other pregnancy multivitamin(1), as well as a high level of iodine and other important vitamins and minerals. Folic acid is clinically proven to reduce the risk of neural tube defects like spina bifida(2), iron helps in the formation of the red blood cells which prevent iron deficiency while iodine assists in the baby's brain development.
It is Australia's number 1 pregnancy multivitamin(3).
 - More folic acid and iron than any other pregnancy multivitamin*
 - One convenient tablet per day.
 - Australia's number 1 pregnancy multivitamin*
 - Take at least one month prior to planned conception, throughout pregnancy and breastfeeding
 - Folic acid is clinically proven to reduce the risk of neural tube defects, such as spina bifida*.
 - Available in two pack sizes - 30 tablets and 100 tablets.
References:
1. Compared to leading Australian pregnancy multivitamins as at August 2019
2. De-Regil LM et al. Cochrane database of systematic review 2015. If you have had a baby with neural tube defects/spina bifida, seek specific medical advice
3. Based on sales (IRI MAT to 22/09/2019)
Product Claims: Gluten free. Free of Porcine and Borvine derived ingredients
Boxed Contents: 100 Tablets
Size: 100 Pack
Warnings
Always read the label. Follow the directions for use. Vitamin supplements are not a substitute for a balanced diet. For more information go to: www.elevit.com.au
CAUTION
This product contains selenium which is toxic in high doses. A daily dose of 150µg for adults of selenium from dietary supplements should not be exceeded. Suitable for use by adults only. Do not exceed the stated dose of folic acid except on medical advice. Vitamin supplements should not replace a balanced diet. Contains sucrose. If you have had a baby with neural tube defect/spina bifida, seek specific medical advice.
Ingredients
Each tablet contains:Folic Acid 800 µg, Iron (as Ferrous Fumarate) 60 mg, Iodine (as Potassium Iodide) 220 µg, Thiamine (Vitamin B1, as Thiamine Nitrate) 1.4 mg, Riboflavine (Vitamin B2) 1.4 mg, Nicotinamide 18 mg, Pantothenic Acid (Vitamin B5, as Calcium Pantothenate) 6 mg, Pyridoxine (Vitamin B6 as Pyridoxine Hydrochloride) 1.9 mg, Cyanocobalamin (Vitamin B12) 2.6 µg, Ascorbic Acid (Vitamin C) 85 mg, Cholecalciferol (Vitamin D3 200 IU) 5 µg, DL-Alpha Tocopherol (Vitamin E, as DL-Alpha Tocopheryl Acetate) 18.7 mg, Biotin (Vitamin H) 30 µg, Calcium (as Calcium Hydrogen Phosphate Anhydrous, Calcium Pantothenate and Calcium Carbonate) 125 mg, Magnesium (as Magnesium Oxide-heavy And Magnesium Stearate) 100 mg, Copper (as Cupric Sulfate Anhydrous) 1 mg, Manganese (as Manganese Sulfate Monohydrate) 1.9 mg, Zinc (as Zinc Citrate Trihydrate) 11 mg, Selenium (as Sodium Selenite) 50 µg.
Directions
Take one tablet daily with the main meal or as directed by your healthcare professional. Take Elevit for at least one month before pregnancy, throughout pregnancy and the breastfeeding period.
STORAGE INSTRUCTIONS
Store below 25°C. Protect from heat and moisture.
**Please note that not all products available online are available in the stores.
The RRP against which any savings comparisons we make to the listed sale price for products displayed on this website is: the supplier's recommended retail price for the product, provided that this is a price at or above which at least 5% of Australian Pharmacy Transactions~ have occurred for that product within the previous 2 months; or if at least 5% of Australian Pharmacy Transactions~ for that product in the previous two months did not occur at or above the supplier's recommended retail price, the RRP will be the price at or above which at least 5% of Australian Pharmacy Transactions~ occurred within the last 2 months.

All prices displayed on this website are in AUD unless otherwise indicated.

Actual product or product packaging delivered may vary slightly from product image shown.
Always read the label. Follow directions for use. If symptoms persist talk to your healthcare professional. This medicine may not be right for you. Read the warnings before purchase.
The Pharmacist reserves the right to not supply contrary to our professional and ethical obligation.

Sunscreen is only used for one element of protection.

View Our Terms & Conditions and our Privacy Policy

.
** Free Shipping for Order over $99 within Australia
Current Status: Some delays due to COVID-19.
Dispatch times: Within 3 business days.
Delivery times:  Due to COVID-19 and high volume of sales, there may be some delays in delivery.
How long will my order take to arrive? 
Shipping Method 

Cost 

Total Delivery Time 

Express eParcel
(National)

 

Min Order $30

 

1- 3 business days.
The Australia Post Express Next Day Network can be found by clicking here.
Tracking number will be provided.
Parcel is Subject to safe drop unless requested otherwise via Australia Post or in the delivery comments.

Standard - National Shipment

 

No Min Order

 

5 - 7 working days, up to 10 working days to Western Australia.
Parcel is subject to safe drop unless requested otherwise via Sendle or in the delivery comments.
Tracking number will be provided.

Standard - International Shipment

 

Min Order $50

 

Zone 1 - New Zealand | 4-6 working days
Zone 2 - North America, Western Europe, Asia and the Pacific | 6-13 working days
Zone 3 - Rest of the world | 10-15 working days  

Please note that if your order contains dangerous good (e.g. hairspray, nail polish, fragrance) your order may subject to customs charges and restrictions of destination country.
We know you're probably used to our super-fast dispatch times, as well as our guarantee to have any orders placed before 2pm dispatched on the same day. However, due to the ongoing COVID-19 crisis, we have had to slightly modify our processes in order to ensure the absolute health and safety of our team members as well as our wonderful customers.
This will mean our dispatch times will be slightly delayed and we can no longer guarantee same day dispatch for orders placed before 2pm. Rest assured, we are doing our best to send out orders as fast as we can! Please note that our shipping guidelines are based on the estimated time of arrival from the dispatch date, not the date your order is placed.
Please be advised that our delivery time guidelines are based on business days, which only includes Monday - Friday and excludes public holidays.
If you believe your order is outside the specified time range of delivery, and you are having your parcel delivered to a business address, please check the mail room or reception for your parcel.
If your parcel is being delivered to a home address and you have left delivery instructions, please check around your property (such as the meter box, carport etc) for somewhere safe the delivery driver may have left your parcel.
Please check your confirmation email to confirm your delivery address was correct.
Your parcel will be sent via Australia Post (Express), Fastway and Sendle.
1. You'll find your tracking number under "Tracking Number" in your shipment confirmation email.
2. Enter this tracking number at  http://auspost.com.au/track/track
For parcel enquiries you can contact Australia Post directly on 137 678
If you have been through these processes and still cannot locate your parcel, please email us at admin@bettervaluepharmacy.com.au.
Our deliveries with Australia Post are delivered with safe drop, meaning your parcel will be left in a secure place around your property if no-one is home. If there is nowhere safe to leave your parcel, please note this in the Delivery Comments box at the final stage of checkout.
If you are having your parcel delivered to a work address, please ensure you include your business name and any delivery instructions (eg "Leave at Reception").
If your parcel is being delivered with our same day delivery service, please ensure your mobile number is in the delivery comments or on your customer account, so we can contact you if necessary.
If one of the items you've ordered is out of stock, your order will be placed on hold until the available item comes back into stock.
This will be reflected on your confirmation email, as your dispatch date will be delayed.
If you would like an update on when a product will come back into stock, please email us at admin@bettervaluepharmacy.com.au.
Thanks for understanding.